What is Babywearing?
It is wearing your baby, of course, in a sling or carrier.
To the modern mother, it's kind of a parenting style. As
Attachment Parenting
started gaining popularity, so did the practice of babywearing. Attachment Parenting (AP) is all about nurturing the bond between parent and child, which is facilitated by wearing them often from birth through toddlerhood. That's not to say women are wearing them 24/7, many just do it when it's convenient and they are on-the-go. Anyone can do it, not just AP parents. In fact people have been doing it for centuries around the world. It's starting to get popular again, and there are more options now than ever.
Why Do it?
It is very convenient. I can GET SHIT DONE when I wear my baby. When Olive was a wee thing, I would put her in the
Moby Wrap
and clean up, even breastfeed her while she was in there. Those are things you can do with any ergonomic baby carrier. It took some practice, but it was so worth it.
Those car seats are super awkward to carry around and aren't that safe when you are going out. Have you tried putting them in shopping carts? Accident waiting to happen. Leaving them sitting on the floor is a hazard for everyone. Wearing your baby to the store is very easy and of course, you look so cute when you do it. People will inevitably comment on it, too.
Babies worn in slings are happier. They don't fuss as much.
You are getting a great workout when worn properly.
Slings and carriers are great for bonding with dad, grandparents, etc.
It is super fun! I love finding new ways to wear Olive as she grows and she loves it too.
How safe is it?
The safest place for your baby is right on your body. You know exactly where they are. This is especially helpful when your kid reaches toddler hood, because they have a safe place to retreat.
DO NOT WEAR YOUR BABY IN A MOVING CAR. EVER. Seems like common sense, but you'd be surprised.
What kind is best?
I have tried a lot of different carriers...
My advice:
stay away
from the "Bjorn style" carriers or other front-facing carriers. They are HELL on your baby's spine and hips, as pointed out in more and more studies like
this one
. The dangling legs position is what you don't want. Of course, I didn't know this when I wore her here:
Olive dangling by her bits :(
Honestly, this was before my babywearing education. There just isn't much talk about it out there. Hopefully this will be a lesson to all of you! If you wouldn't want to dangle by your bits, don't make your baby do it. It wasn't very comfortable for me to wear her for very long, either.
On to the Good Stuff:
Note in all the following carriers, the babies are in a
seated
position with their knees parallel to their butts. This is what you want! All the babies are within kissing distance of their wearer's face in the front, or can peek over the shoulder in a back carry. Also what you want!
Buckle Carriers
Great for Beginners with older babies ($90-$135)
I was introduced to the magical world of Ergonomic Carriers by my good friend Ginna. She has an
Ergo
, which I consider to be AMAZING. These are intended for babies 4 months and up, but they have infant inserts you can buy for smaller babes. Can run pretty expensive but you can probably find a used one out there for less. They come in oodles of adorable prints. Worth every penny, IMO. There are other similar brands, too, like BabyHawk, Beco, or Pikkolo.
Mei Tai
Intermediate ($75-$135)
Not to be confused with the tropical drink (Mai Tai), these things are very refreshing as well! They are a bit trickier to learn than the buckle style, because you gotta tie it on, but they are so versatile!
Here
are some instructions on all the carries you can do.
Popular brands are Kozy, Wrapstar, Ellaroo, and
BabyHawk
(my fave).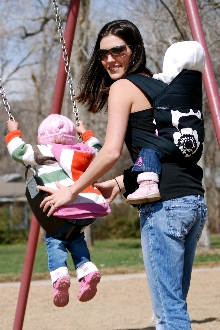 Ring Sling
Affordable beginner option best for older babies ($35-$100)
This is definitely a go-to favorite of mine because it really is the easiest for me. I slip it on, slide baby into it from my shoulder, and cinch it up snugly. I keep it in my car at all times for when I gotta run into the post office or something. I use a Maya wrap, in a large size so I can drape the end over her head if it's raining. Plus it has a pocket!!
Instructions!!
I should have the fabric pulled farther over her bum, like to her knees.
Her arms don't need to be tucked in, either.
Stretchy Wrap
Great for one-carrier family ($45-$140)
The stretchy wrap that I have is the Moby Wrap. I love this thing! I got it as a baby shower gift from my friend Amy and I would recommend using it when it's not too hot outside, since the fabric + baby heater + you = sweat. It is awesome for wearing from birth to toddler, though. I would say that it offers the best UV protection, as well, since it covers the most skin. Plus there are a million ways to wear the thing.
Woven Wrap
Experienced users ($35-$145)
This is a carrier-collector's favorite as there are some GORGEOUS fabric options out there. Woven wraps can be made from Silk, Organic Cotton, Linen, etc. and of course, the colors are to die for. They are much cooler than stretchy wraps, very strong, and can be worn from birth to toddler. But there is a steep learning curve, so don't think you can jump right in without practice. Some brands are Girasol, Gyspy Mama, and Ellaroo.
This is just an introduction to the world of babywearing. With all of these options, no matter what, please please please read all the instructions before using them and do some research on what will fit your baby the best. Some work better for newborns than others, so that is a big factor to consider.
Strollers while travelling are a pain in the ass, so why not try a wrap or sling for your next trip? Even the most expensive carriers are cheaper than most strollers and way more fun and convenient!
Just give one a try, I promise you will fall in LOVE.